Urge Mattel to Discontinue Its Trans Barbie Doll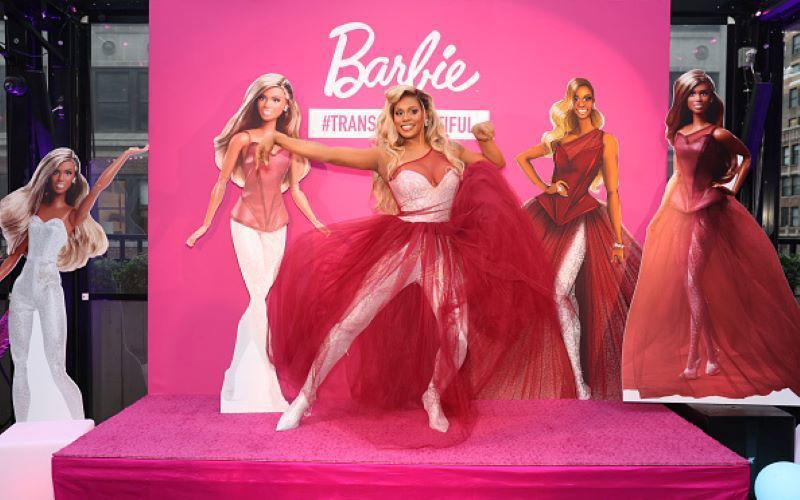 Mattel recently announced its launch of the first transgender Barbie doll as part of its #TRANSISBEAUTIFUL Tribute Collection, modeled after the Orange Is the New Black actor and LGBTQ activist Laverne Cox. Mattel created a Barbie in his likeness, wearing a red, sheer evening gown with a faux leather strapless top, a tulle skirt, and a sparkly silver bodysuit underneath. The Laverne Cox doll promotes cross-dressing and glorifies the transgender lifestyle. Mattel has created a toy glorifying gender inclusivity while ignoring one's biological sex.
On Mattel's website, the doll's description reads, "As a four-time Emmy-nominated actress, Emmy-winning producer, and the first transgender woman of color to have a leading role on a scripted TV show, Laverne Cox uses her voice to amplify the message of moving beyond societal expectations to live more authentically."
The executive vice president of the company and global director of Barbie, Lisa McKnight, proudly announced the decision: "We are proud to highlight the importance of inclusion and acceptance at all ages and to recognize Laverne's significant impact on culture with a Tribute Collection Barbie."
Laverne Cox has also spoken about the issue on Instagram: "Now there is a Laverne Cox Barbie doll. Just wow! Thanks to everyone at @mattel for all the love you put into creating it. And thank you for this moment for the trans and LGBTQ+ community in truly challenging times, particularly for trans kids. I am deeply honored and hope that this doll will be a beacon of hope and possibility for fans of Barbie and beyond of all ages."
Barbie is also donating in Cox's name to TransFamilySOS, an organization that describes its mission as a service "that saves lives by shaping a gender affirming and accepting community."
It is outrageous that a toy company is marketing and normalizing gender dysphoria to young children. Parents who are not already aware of the company's agenda, please be forewarned: Children are being "groomed" by Mattel trans Barbie dolls under the disguise of playtime.
Now, parents will have to deal with the confusion experienced by their children when these inappropriate dolls are seen on store shelves such as Walmart, Target, and other stores that sell Barbie dolls.
This is not the first time Mattel has marketed non-binary dolls to children. One Million Moms launched a campaign in October 2019 after Mattel announced the Creatable World line of nonbinary dolls. After the 2019 1MM campaign, these sets were in and out of the market so quickly that their production and sales were discontinued in 2020. So, it is obvious that consumers are not supporting transgender dolls, but Mattel insists on promoting another controversial doll line.
This new product makes it clear that Mattel has an LGBTQ agenda that it is forcing on extremely young audiences. Obviously, Mattel is attempting to "groom" the next generation. This company should be enhancing learning during play, but instead, Mattel is brainwashing our preschoolers and elementary-age children.
Mattel is hoping to have this doll placed in playrooms solely to indoctrinate children into transgenderism and homosexuality. The company's goal is to have everyone, even toddlers, accept the LGBTQ lifestyle, but a toy company should never even consider taking part in this abomination.
Mattel is purposely confusing our innocent children by attempting to destroy very definitive gender lines. Why can't the toy manufacturer let kids be who God created them to be instead of glamorizing a sinful lifestyle?
Liberal manufacturer Mattel is following a culturally popular trend to desensitize America by telling children they can be whatever gender they want to be. This irresponsible line of toys is dangerous to the well-being of our children. Mattel should avoid an obvious attempt to please a small percentage of customers while pushing away conservative customers who hold to the age-old truth that a boy is a boy and a girl is a girl.
Mattel is choosing to push an agenda of sexual confusion instead of promoting its actual product. This PC-inclusive toy blurs the biological distinctions between males and females. Introducing children to this lifestyle choice is contrary to what conservative, Christian parents are teaching their children about God's design.
Take Action now and demand that Mattel remove the controversial doll from shelves immediately!
TAKE ACTION:
Sign our petition urging Mattel to discontinue production and sales of its trans Barbie doll immediately. Be sure to share this campaign with your friends and family!
Take Action Now!