One Million Moms Thanks Buffer Insurance for Its Pro-life Stand!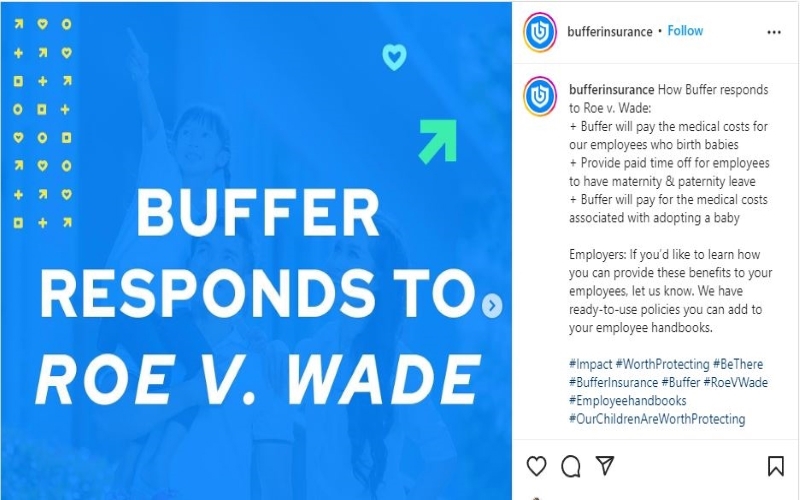 To date, after a landmark Supreme Court ruling that democratically passed the abortion decision back down to the states and elected state officials, more than 50 well-known corporations have taken a boastful stance against life. These corporations will now pay travel expenses for employees to abort their babies in a neighboring state if abortions are banned where they live and work.
With the rare exception of a Texas-based health insurance company, Buffer Insurance, numerous mega-corporations are encouraging their female employees to end their pregnancies and return to work.
Meanwhile, a poll by YouGov suggests a majority of people oppose corporate America taking a position on abortion. Similarly, by a margin of 51% to 23%, a LifeNews poll found that most Americans disagree with a private company taking a public stance on the issue of life in the womb.
Eric Scheidler of the Pro-Life Action League told American Family News it appears corporate America cares about its profits over its people.
"They want to make sure," said Scheidler, "that their female employees can get back behind the espresso machine, back onto the warehouse floor at Amazon, back onto the sales floor at Dick's Sporting Goods, and back into the office at Citigroup."
These corporations would predictably disagree with that assessment and insist they are defending "choice" or "bodily autonomy," but Scheidler said a pregnant employee disrupts their "profit flow" when she is on maternity leave. If she has an abortion, she can quickly return to her job in the cubicle or on the sales floor.
Plus, babies could potentially become another profit flow issue for these companies. When children are sick, their parents take off work to care for them until those children are well enough to return to daycare. Not to mention, children often require doctor appointments, whether sick or well, and these worker absences would also impede potential profit flow for corporations.
These liberal companies are obviously choosing profits and a pro-choice position instead of financially helping their employees who choose life. Worst of all, they are masquerading their corporate greed under the guise of benevolent support of women's rights.
A rare exception to this evil pro-abortion stance is Buffer Insurance, a regional health insurance agency headquartered in Southlake, Texas. In a public statement, the insurance firm responded to the court's abortion ruling by:
     - Paying employees' medical expenses related to giving birth,
     - Providing paid time off for maternity and paternity leave, and
     - Paying medical costs associated with adopting a baby.
"We want to celebrate life and make it easy for families to expand," Sean Turner, Buffer's president, told CBN News. "The culture says children are a burden, but the Bible says children are a blessing."
TAKE ACTION:
Sign our petition, and thank Buffer Insurance for taking a pro-life stand and financially supporting their employees who choose life.
Take Action Now!