Now Lego is Loud and Proud!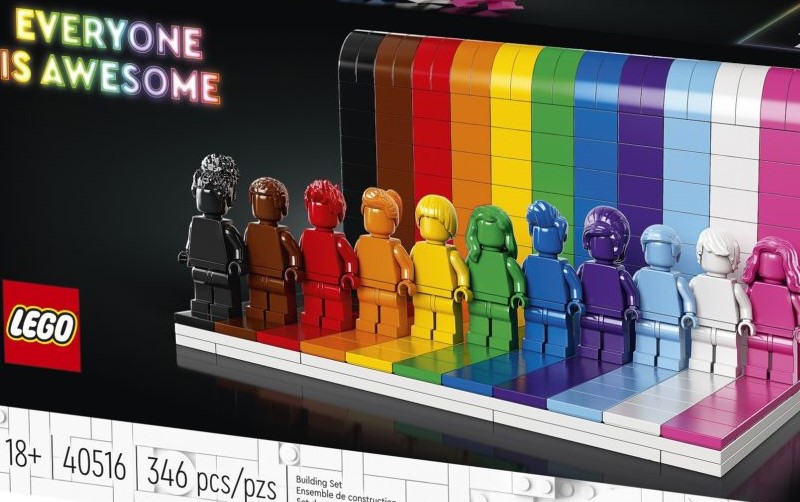 Lego recently announced its launch of a rainbow-colored building block set available June 1 – just in time for Gay Pride Month.
Lego has created its first LGBTQ toy that glorifies gender inclusivity and ignores one's biological sex. This 346-piece set includes a rainbow-colored background and figures of each color. There is even a purple drag queen figure, according to Matthew Ashton, the designer of the set.
"We're super excited to reveal our new set – Lego: Everyone Is Awesome!" the company tweeted Thursday. "Because we celebrate every Lego builder."
"The set features a rainbow wall, plus black and brown, and the colors of the transgender flag: sky blue, white, and pink," Fox Business reported. "The rainbow wall has 11 accompanying figures with a corresponding color."
With the pro-LGBTQ toy being recommended for ages 18+, many critics are concerned about the actual contents inside the new product's box and its appropriateness for minors, but Ashton insists that it is for all.
"I wanted to create a simple little set with a powerful message of love, inclusivity, and acceptance … so here it is! #lego love to you all!" tweeted Ashton, who is also a Lego vice president of design.
Aston claims the set advocates tolerance but is also persistent that Lego be on board to build the LGBTQ agenda.
"That's what's been so important to me in getting this set out with a message that we can be really proud of," he added.
It's apparent that even toy manufacturers are attempting to indoctrinate children by exposing them to the LGBTQ lifestyle. Why can't Lego let kids be kids instead of glamorizing a sinful lifestyle?
Lego is confusing our innocent children by attempting to normalize this lifestyle choice, which is not only irresponsible but also dangerous to the well-being of our children. Toy manufacturers need to remain neutral and should avoid aiming to please a small percentage of customers while pushing away conservative customers.
It is crystal clear that Lego is attempting to desensitize our youth, so One Million Moms believes it's urgent to warn parents of the company's agenda.
One News Now covered this story recently. We have included the article here for additional information. One News Now is a division of American Family Association, the parent organization of One Million Moms.
We must remain diligent and stand up for biblical values and truth. Scripture says multiple times that homosexuality is wrong, and God will not tolerate this sinful nature.
TAKE ACTION
Sign our petition urging Lego to stop the release of its "Everyone is Awesome" rainbow LGBTQ building set immediately.
Take Action Now!