Match.com Airs Satanic Commercials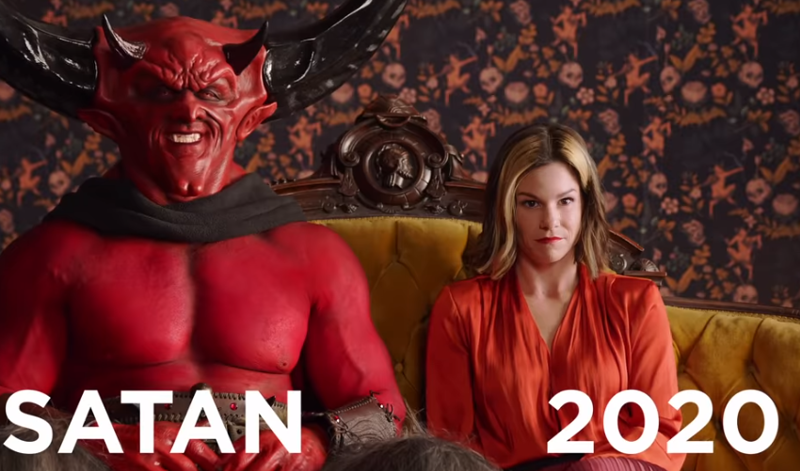 Match.com has taken a dangerous step into the darkness with its new satanic commercials that use the slogan a "Match Made in Hell" and feature Satan using the online dating site/app to be matched with a young woman named 2020. They discover they are both from hell; they hit it off and later fall in love. 2020 is shown romantically feeding Satan hot peppers, instead of strawberries, while picnicking on a football field with "WTF" painted in the end zones. The couple is always doing mischievous activities and pranks while on their dates. 2020 also tries to drag a resistant Satan into a church that has a sign displaying "All Are Welcome." But the most disturbing part is that Satan is portrayed as lovable and friendly while fully dressed in red with big black horns.
A follow-up commercial, also airing on television and not just online, shows the couple being interviewed by Match.com. A few of their comments from the interview include:
"Oh, I've dated much worse guys then him, much worse. I mean at least he's famous," 2020 says while Satan smiles.
"I started out by filling out the custom search filter," says Satan. "I filtered out joy, happiness, toilet paper, and reason." Then 2020 points at herself and says, "Boom!"
"Most 'years' I've dated are a little, I don't know, straightforward. I mean there's a little misery but nothing truly soul crushing about them," Satan says.
2020 mentions having a tattoo of a poem, but Satan interrupts by saying, "Don't ask me where!" 2020 says while giggling, "You devil!" only for Satan to laugh and smile while saying, "Guilty!" Both laugh.
"She gets me," Satan concludes. "That's the best part. When you meet someone that takes time to see beneath the surface. …"
"Of the Earth," 2020 adds. "It's just a perfect match."


These two ads, both created by Ryan Reynolds, make light of hell and the eternal dangers of the demonic realm. One Million Moms does not want viewers to be deceived by this unbiblical depiction of Satan and hell.
These two dark commercials make it difficult for families and children to avoid such evil content while watching TV shows during prime time and sporting events.
Take Action
Please sign our petition urging Match.com to cancel these satanic "Match Made in Hell" commercials immediately.
Take Action Now!