Gucci Commercial Features Polyamorous Trio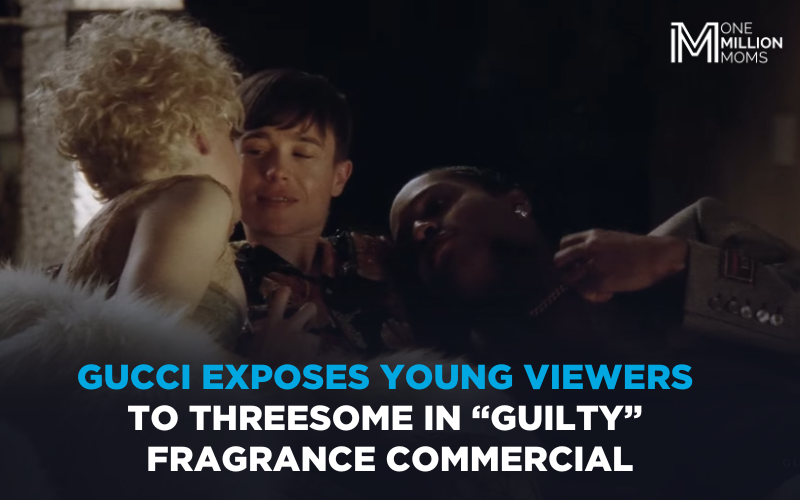 Gucci is marketing their fragrance "Guilty" with a polyamorous trio in their ad, airing when children are likely watching television. Ellen Page, a biological female now identifying as a man named Elliot, stars in the LGBTQ-inclusive commercial. In the ad, Page is accompanied by actress Julia Garner along with rapper A$AP Rocky. The three individuals are seen hugging each other cheek-to-cheek, kissing, cuddling, and snuggling while wearing the Gucci Guilty Pour Homme cologne and Gucci Guilty Pour Femme perfume.
In Gucci's YouTube video, the company describes its ad like this:
"Julia Garner, Elliot Page, and A$AP Rocky co-create a world of open-hearted bliss in the new Gucci Guilty campaign. In this space of imagination, they celebrate the countless iterations of love, embodying self-acceptance, and showing how openness unleashes the purest form of expression."
Gucci should learn from others' mistakes. The company is choosing to be politically correct instead of focusing on selling its products. Retailers should choose morality or remain neutral in the culture war. Otherwise, their bottom dollar will suffer.
Gucci must seriously consider how immoral advertising affects our nation's youth. Commercials featuring polyamory are not appropriate. This commercial further exposes children to the liberal LGBTQ agenda during prime viewing hours.
Therefore, 1MM is letting Gucci know we will not support its products if it continues airing commercials featuring polyamory or pushing the LBGTQ agenda.
TAKE ACTION!
Please sign our petition urging Gucci to pull its inappropriate commercials immediately.
Thank you for signing. Please share with your friends and family!
Take Action Now!