American Women Left Behind in Taliban Territory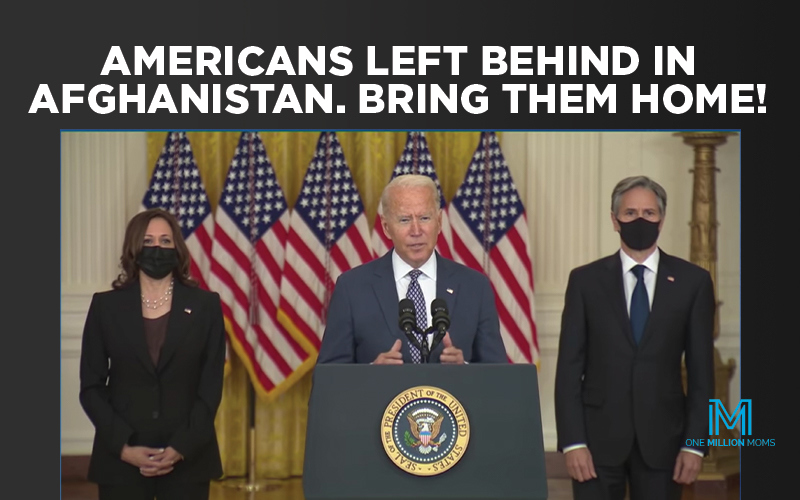 President Joe Biden has failed American citizens and U.S. allies who are stranded in Taliban controlled areas of Afghanistan. Reports indicate over 10,000 Americans have been left behind due to President Biden's failed exit strategy to draw down U.S. military forces from Afghanistan. The women stranded by the Biden administration are particularly afraid for their rights and especially their daughters' futures if deserted in Afghanistan. These American women, such as contract nurses and female allies who have worked with the U.S. over the last 20 years fear they and their connection to the U.S. will be found out. These women are doing everything they can to destroy any evidence to keep from being discovered by shredding any paper trail of anything in English and even burying their phones in hopes not to be kidnaped, captured, or killed. Biden needs to keep his word and help rescue them from this life-or-death situation.
The only evacuation point for our citizens is from the airport in Kabul. Although U.S. forces have secured the airport, the surrounding area of Kabul (where Americans and allies are located) is controlled by the Taliban. Americans are now warned by the U.S. Embassy in Kabul not to travel to the airport because of potential security threats. Our people are stranded, and our government must immediately evacuate every single American and Afghan ally who desires to leave.
Send President Biden an email demanding that he use U.S. military forces to rescue fellow Americans and Afghan allies.
U.S. Embassy officials in Kabul reportedly warned the U.S. State Department on July 13 that the Taliban would overtake the area and because of this, the Embassy recommended the U.S. "speed up the evacuation of Americans and its allies" who are still left behind.
President Biden's decision to draw down military personnel prior to evacuating all Americans and Afghan allies is a disaster. Remaining U.S. forces in Afghanistan are currently limited to securing the airport in Kabul. The void of U.S. military beyond this area where Americans and Afghan allies are stranded has been filled by Taliban terrorists.
Although the U.S. military has established a perimeter around the only remaining airport in Kabul for evacuation, the Taliban's checkpoints are beyond this zone, and reports indicate they are blocking Americans' and allies' entrance into the airport. During a press conference on August 20, President Biden responded to these reports saying Americans were having no issues getting through the Taliban checkpoints. Minutes after President Biden's press conference, Defense Secretary Lloyd Austin discussed a different view of the Taliban's actions during a call with lawmakers. Reports about the call state that Austin told lawmakers Friday that Americans trying to leave Afghanistan have been beaten by Taliban fighters.
Less than 24 hours after President Biden's August 20 press conference with Secretary of State Antony Blinken, the U.S. Embassy Kabul raised the security alert for Americans attempting to evacuate from Kabul airport. The security alert is "advising U.S. citizens to avoid traveling to the airport;" however, "the Pentagon said the U.S. military does not currently have the ability to reach people beyond the Kabul airport." While the Biden Administration "continues to stick to its plans of not reaching out into Kabul to assist U.S. personnel and Afghan helpers evacuate, British and French forces have done so to rescue their citizens."
TAKE ACTION
Send an email to President Biden urging him to get every one of our fellow American citizens and allies out of Afghanistan, and to do it now.