Hershey's Disturbing New Ad!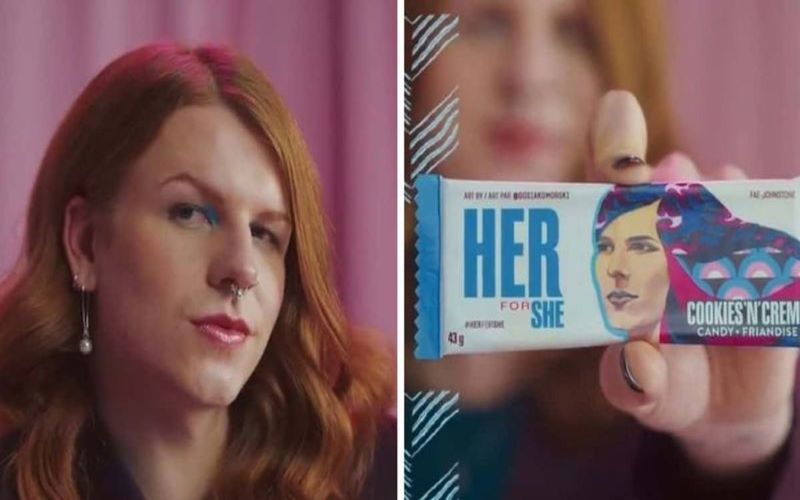 The Hershey Company (commonly known as Hershey's) is joining other corporations in supporting the LGBTQ agenda. Recently, Hershey's launched a tasteless marketing campaign that is a slap in the face to women worldwide. In honor of International Women's Day, celebrated annually on March 8th, Hershey's hired a trans woman to be the spokesperson for their campaign honoring women.
A biological male promoting International Women's Day is ridiculous. Hershey's has gone woke. This ad is extremely offensive and completely unnecessary. Though this ad is currently airing in Canada, many of their networks also air here. The commercial features the transgender activist Fae Johnstone, the executive director of Wisdom to Action. The ad ends with Johnstone stating, "See the women changing how 'we' see the future." This ad campaign is disturbing since everyone knows children repeat what they hear and mimic what they see.
To celebrate International Women's Day, the candy company has a special wrapper emblazoned with the words "HER FOR SHE," also featured during the commercial, further indoctrinating children. Since women and children especially love chocolate, this would be their target audience.
Hershey is facing some backlash with good reason. There is a price to pay for woke activism.
TAKE ACTION:
Please sign our petition urging Hershey to immediately stop its inappropriate marketing campaigns and cancel this "HER FOR SHE" commercial and marketing campaign.
Take Action Now!